Seats of lawnmowers are a pain to take care of and at some point, it's sure to face some trouble. The scene of a cracked seat isn't a very unusual thing to happen. And this could be due to a number of reasons.
However, no matter what the reason behind that cracked lawn mower seat is, the main concern is finding an appropriate solution to fix it. And that's exactly what we plan to do for today. Let's have some discussion on how to fix a cracked lawn mower seat with methods that are actually pretty simple to proceed with.
Notes To Keep in Mind When Fixing Cracked Lawn Mower Seat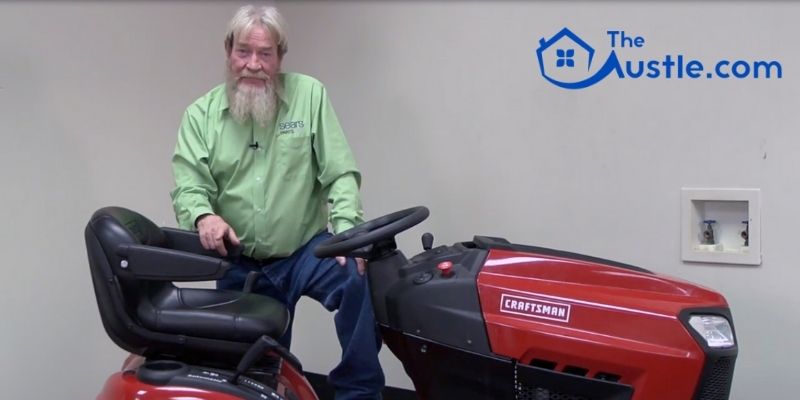 Have you found your mower seat all torn, cracked, or ripped? It must be hard to fix a split seat if you don't know the tricks. This is a common issue that most people face.
Restoring a cracked lawn mower seat can be difficult or simple based on how you put effort.
Lawn mower seat repair is actually varied if you live in sunny areas. Since UV rays are the main reason why mower seats get torn apart, it is fine to use different methods on special cases. Yet, you should know about tricks that will help you fixing the mess faster in a good way.
Work In Open Area
Starting your work in an open area will help a lot to fix the seat easily. When repairing the seat, it needs to be removed from the mower to comfortably attach the surface. And, if you work in a dark area, there can be faults.
Be sure to open your room windows or set lights where you are about to do the job. You can also use a lamp to create better lighting and fresh air.
Use High In Quality Products
When fixing a mower seat, it would be great if you use a high-quality product. A product that has a good quality will ensure handling cracks well by adding age.
If you are getting products online, check the customer reactions to know which one is right. The product needs to be fine for mower seat cracks to repair better.
Also, look into the ingredients list to learn which one has no bad chemicals. Many products in the market use harmful chemicals which can cause skin irritation and damages. So, grab high-quality products as an alternative.
Fixing Cracked Mower Seat Needs Patience
There is a saying that 'Patience is bitter, but its fruit is sweet'. When dealing with splits of mower seats, it is better to tolerate. The process will be harder if you lose your mind.
Patch up the cracks of the lawnmower seat by trusting your process with good patience.
Create A Clean Workplace
Another thing you want to do is to clean your workstation before fixing a cracked mower seat. Just makes sure your table has no extra stuff other than necessary tools and a mower seat to do the process peacefully. A dirt-free room will also help you to focus on repairing it better.
Are looking for how exactly you can clean the workplace? Use a clean cloth to wipe extra dirt out from your room and organize stuff in the right place.
How to Fix A Cracked Lawn Mower Seat Using Vinyl Glue
The most effective and simple way to repair the mower seat ripped-off surface is using vinyl glue. Most people rely on this method to get the job done easily. Yet, this technique will be good if your mower seat is larger.
The cracked mower seat will be good if the vinyl glue is good at attaching.
As seats are different sizes in most mowers, it is wise to apply this method on one-piece seating types. So, grab all the essential tools given below and read the guide on how to glue lawn mower seat back on.
Gorilla Heavy Duty Construction Adhesive Glue
Waterproof And Paintable
Durable Construction
What You'll Need:
A Solid Wrench
A Vinyl Glue
Small Flathead Screwdriver
Sharp Hobby Knife Or Box Cutter
A Duct Tape
A Layer Of Foam
Guide Of Fixing A Cracked Lawn Mower Seat Using Vinyl Glue
Step 1: First off, take out the seat. Look into your mower instructions to remove the seat out of the lawnmower. Take out the 2-4 nuts from the seat mounts. Then, secure the bolts in a safe place.
Step 2: Now, pull out the seat by pushing it up and forward on the steering wheel. Then, remove the foam or vinyl cover. Shift the cover on the table.
Step 3: Next, pry the stapes using your screwdriver. Makes sure to use the hobby knife to safely cut the vinyl or foam from the rivet.
Step 4: After you have done removing the cover from the seat panel, it's time to fix it. Turn the cover in the backside. Now, grab a layer of foam to insert into the cover. Use your hand to attach the foam inside the cover.
Step 5: Now, you need to glue the vinyl cover to make a solid coverage. Again, shift the seat cover in the table. Next, use the glue to seal the area. Makes sure you have stuck the glue on all the ripped-up areas.
Step 6: After that, after you have done repairing the foam or vinyl cover. It's time to attach the cover in the seat panel using the glue. And, place duct tape on the edge of the vinyl cover. Put glue all over your seat panel to attach the cover.
Step 7: Give time to the surface to attach tightly.
Step 8: Then, place the seat panel on your lawnmower. Attach the bolts that you have secured using a screwdriver. And, you are done.
Pro Tips: Makes sure to wear gloves or a brush when attaching glues on your lawn mower seat. And, use a squeeze of glue for safe application.
How to Fix A Cracked Lawn Mower Seat With Stitches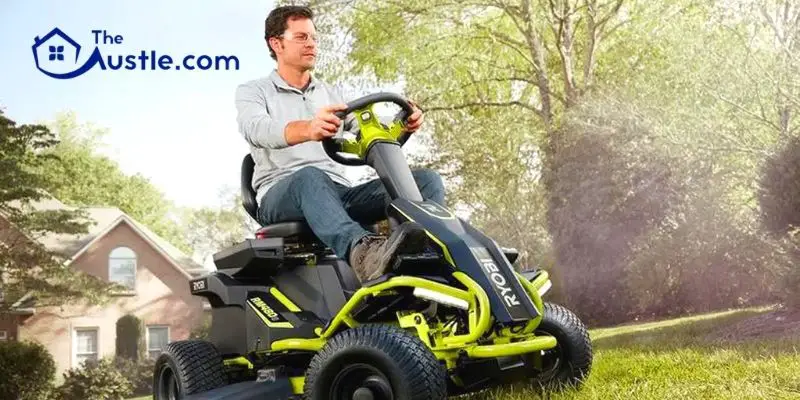 Stitching is another effective way that will securely cover up the cracked part of your mower seat. This method is very handy with good effort and patience.
A straight line of stitching will be ideal for a smaller cracked lawn mower seat.
If you have a mower seat that is ripped from the top or bottom sides, then stitching is your best bet. This technique will work right if you just grab all the essential tools with you. You also need to clean the seat before going to the instruction guide.
GE Sealants & Adhesives Silicone Caulking
Weatherproof
Long-Lasting Performance
What You'll Need:
A Big Sewing Needle
Rubbing Alcohol
Cleaning Spray
Thread
Sandpaper And Block
Duct Tape
Silicone Caulking
A Brush
Guide Of Fixing A Cracked Lawn Mower Seat With Stitches
Step-1: If you have covered the seat crack using tape, then remove it. After you have done removing the tape, go to the next step.
Step-2: Use cleaning spray to clean your mower seat to give a lasting look. This thing helps to locate cracks and splits easily.
Step-3: Next, apply alcohol on the cracked surface to clean the foamy part better. Makes sure to do this process gently.
Step-4: Now, it's time to cover up all the faults of lawnmower seat cracked areas. Use your sewing needle using a strong thread to stitch the surface perfectly. Makes sure you are stitching in a straight line. Try not to pulling or putting more force when stitching on the big gaps.
Step-5: Next, stitch the other cracked areas in the same way. Just be sure the stitching is tight yet gentle to hold the cover.
Step-6: After that, fill the areas using the duck tape to makes sure the stitches are covered. It would be great if the duct tape is matching to the seat cover color.
Step-7: Then, use a brush by dipping inside the silicone caulking to cover the seat cover. Just cover the surface in a thin layer of solution.
Step-8: Replace the seat cover on your mower by fitting all the bolts inside the mounts. And, it is done.
Pro Tips: As an alternative, you can use Plasti Dip to cover the duct tape with good coverage. And, it will help to fill the holes in the seat with black color.
How to Fix A Cracked Lawn Mower Seat Using An Old Denim
If your mower seat is completely ripped or needs a quick replacement, then using old denim will solve it faster. Even if it will need hard work and time, but the result will be satisfying.
The repairing of cracked lawn mower seats using old denim will be easy if using the right products.
To attach the denim back to your ripped seat, it may need good quality items. This method is super effective for covering the seriously cracked seat. Thus, take all the items given below and jump to the step-by-step guide for ease of work.
Loctite TITE FOAM Insulating Foam Sealant
Flexible And UV-Free
Easy To Use
What You'll Need:
Old Denim
Foam Insulated Spray
Spray Paint
Duct Tape
A Sharp Knife
A Scraper
Guide Of Fixing A Cracked Lawn Mower Seat Using An Old Denim
Step 1: Start off, removing the foam cover of the mower seat. Use a scraper or sharp knife to take out the cover without harming the surface.
Step 2: Take the foam cover in the table. And then, use a foam insulated spray to give a good filling. It will help to cover all the cracks inside the foam.
Step 3: Now, use a paint spray to cover all the tarnish of the seat panel. This way you can have a nice look seat with no rust.
Step 4: Dry the surface for the given time. Also, check the manufacturer details to know how long you should wait.
Step 5: If you want to, trim down the extra foamy part which you like using a sharp knife.
Step 6: Take old denim that will fit the foamy cover of the seat. And then, attach the denim using duct take tightly.
Step 7: Afterwards, put the cover on the seat panel. Now, you need to go all over the foamy cover using duct tape to make an artificial cover. Just tape down the bottom part left to right so that no part is left.
Step 8: Insert the seat into your lawnmower. Use a screwdriver to fit all the bolts you have. Makes sure to put the bolts gently where the hole is. Then, lift the seat inside the mower down and backward for fine fitting.
Pro Tips: Be sure your room has enough light and air to do the process well.
Ending Notes
After reading this guide, we hope you have learned all the techniques of how to fix a cracked lawn mower seat. It would be very embarrassing if you live in a neighborhood or guests find out the mower seat ripped out. This will create a wrong image of you too.
It is fortunate that there are many ways you can try out to treat split or snapped lawn mower seats for patching up. Our given methods are effective using the available items to restore the natural looks of your older lawn mower seat. Hope It Goes Well!
You Can Also Read: