Are you looking for the best quality mower for your residential as well as commercial lawn area? Well, in this case, your bow-like mind may not be able to decide which arrow to shoot in the battle of Gravely Vs Exmark.
All right, both Gravely and Exmark are the first-rated mower machines coming with the more or less same price. Yet, while going deeper into their details, you will find some tricky differences between them.
The Gravely one provides you incredible mower maneuverability with high-strength cutting performances within a very short time. Whereas, Exmark offers an innovative, productive, and environment-friendly mower with an efficient mowing experience.
Well, here in this article, we will let you know everything by highlighting their tricky but exact differences. So, you can figure out which one is better for your lawn.
So, let's get into the article!
The Basic Comparison On Gravely Vs Exmark Lawnmower
| | | |
| --- | --- | --- |
| Key Points | Gravely lawnmower | Exmark lawnmower |
| Mower Frame | Fully Tubular Frame | Unibody tubular steel frame |
| Cutting Deck Thickness | Thicker | Less thick than Gravely |
| Caster Size | Larger caster | A little bit smaller than Gravely |
| Deck Design | CFD-Designed Deck | Ultra-cut Deck |
| Airflow Rating | 10-Gauge Fabricated Deck delivers airflow | Flow-control baffles deliver airflow |
| Fuel Capacity | Higher | Lower than Gravely |
Mower Types Comparison Of Gravely And Exmark Lawn Mower
When it comes to having a lawnmower for your mowing project especially for your residential and commercial area, you will obviously want to get a professional-grade mower. Therefore, you can't just ignore the mower types that help to find out the suitable mower you require most.
So, here, we first figure out what mower types both Gravely and Exmark brands offer exactly. Well, the brand Gravely provides 4 types of lawnmowers as Electric lawnmowers, Zero-turn lawnmowers, Stand-on lawnmowers, and Walk-behind lawnmowers.
On the other hand, the Brand Exmark provides only 3 types of lawnmowers as Zero-turn, Stand-on, and Walk-behind lawnmowers. They don't offer an Electric mower like Gravely.
And, under each lawn mower type of both Gravely and Exmark brands, you will find several models. All of the models are designed with different engine ratings and cutting deck sizes according to your need.
Some of them have wider deck sizes and high-strength engine ratings while some come with a more compact size having several higher as well as lower engine ratings.
Well, here is a comparison chart for you to easily figure out their mower types differences-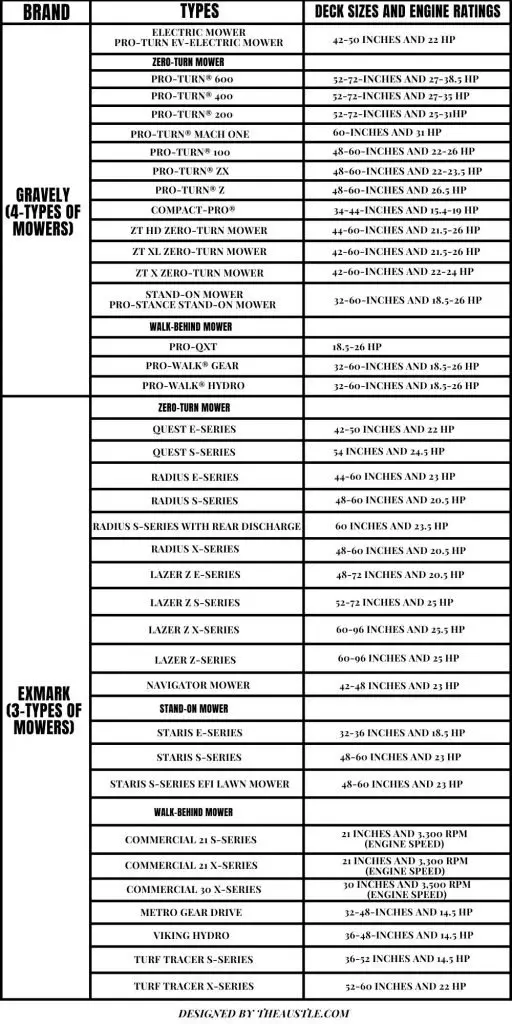 Both Gravely And Exmark Have Frame Design Dissimilarities
The brand Gravely introduces its lawnmowers providing a sleek new Fully Tubular Frame Design. This feature is specially equipped on their PRO-TURN® mower series.
This tubular frame design is made with high-strength as well as premium-grade materials. Therefore, the Gravely lawn mower can stand against the force and stress from any direction.
Not only that but also due to having this feature, it offers superb mower maneuverability. Therefore, you can easily make 180-degrees turns on your mower. So, if you want to manicure your lawn more efficiently, the Gravely mower will be a great option for you.
Moreover, Gravely manufactures its mower with a computer-developed design. So, the stress point of these mowers can be reinforced to provide them maximum fatigue life.
On the other hand, things are different in the case of Exmark mowers. These mowers feature heavy-duty, welded Unibody frames, for example, their Quest series where the materials are gauge steel, tubular steel, aluminum, etc. These materials are equipped with mowers entirely depending on their types.
Besides, like the Gravely mowers, the Exmark mowers can't reinforce the stress point so much. This mower has only one link on its discharge side so, the trim side of the deck has to withhold more stress.
Deck Design And Fuel Efficiency Differences Between Exmark And Gravely Lawn Mower
The Gravely lawn mowers come with a CFD-Designed Deck having an optimized grass lift. This grass lift offers a less fuel-consumption mechanism. Therefore, the mower can mow efficiently while requiring less horsepower.
So, apparently, it increases the fuel economy of your mower. As a result, you can mow a large lawn within a very short period while also getting better fuel efficiency.
Not only that but also, this deck design offers fewer wear points. Thus, it will be more convenient for you to make general mower adjustments as per your requirement.
Besides, for your easy mower operation, it features a Rapid Mower Control System with an intuitive power steering combination. So, you can control variable speed and thus get a perfect lawn mowing finish.
However, in the case of the Exmark mowers, they provide Ultra-Cut-designed decks with ultra-efficient EFI engines. These deck designs are more environmentally friendly compared to the Gravely mowers.
Well, they are not only eco-friendly but also more fuel-efficient. While reducing adverse environmental impact, they decrease fuel consumption and thus enhance the fuel efficiency of the mower.
Along with these, the Exmark mower features a RED Onboard Intelligence Platform. This RED technology also increases fuel economy by powering the communication between the mower critical systems.
However, by comparing both the Gravely and Exmark lawn mowers, we have found that the fuel capacity of Gravely lawn mowers is higher compared to the Exmark mowers.
Here, we have provided you with a fuel-capacity comparison chart so you can find out which one will be your ongoing and long-lasting mower during the mowing project.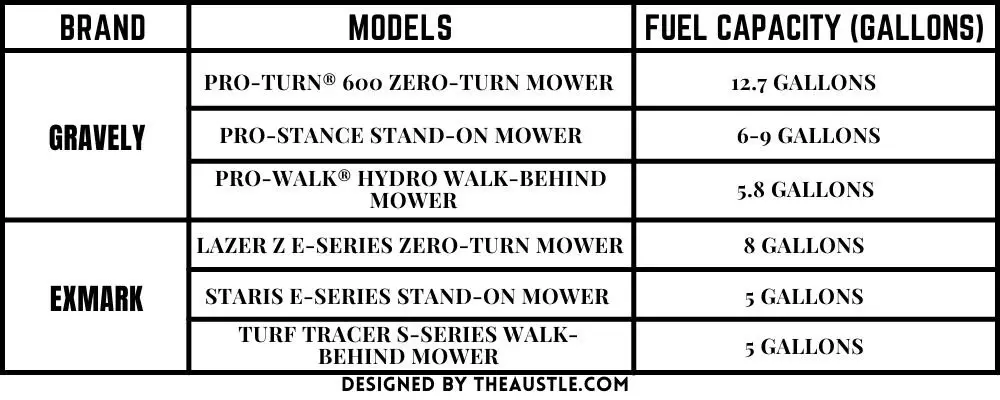 Cutting Performances Comparison Of Both Mowers
The Gravely mower features a gauge Fabricated Deck from its top to bottom that delivers an industrial-strength while you're mowing. It also offers an exclusive and durable Constant Belt Tension (CBT) system.
This CBT system ensures that the belt system of your mower is well-maintained. Thus, it keeps the blade-tip speed as well as the cutting results of the lawnmower consistent. It means that no matter how long you have been mowing, you will get the best cutting results repeatedly for a long time.
Moreover, the fabricated deck allows superior airflow while the leading blade edge of your mower is also reinforced. Therefore, it doesn't matter if your lawn is so dense and thicker or the grass of your lawn is wet, you can cut efficiently in all conditions as well as all mowing seasons.
On the other hand, the brand Exmark introduces its mower with the patent flow-control baffles. So, they can easily accelerate airflow to provide a perfect cutting finish.
Besides, you don't have to worry about the spindles of the mower. They are usually maintenance-free and thus, they can easily withstand not only the moisture but also the environmental impact.
Application Dissimilarity Of Exmark Vs Gravely
Application dissimilarity? Well, it may sound weird to you. And, it's normal, this is because both are mowers. So, mowing is their common job. But, here lies a subtle difference between these mowers.
Although both mowers come with incredible cutting performance and seriously, their cut quality is really so good. However, when it comes to giving a precise mulching cut, or you need a mower for mulching purposes, nothing can beat the Exmark mower.
This is because the mulching kit of the Exmark mower features a complete baffle system. Yet, the price of this mulching kit is very expensive but its cutting quality just cut off the price.
Whereas, the Gravely mower is equipped with a set of mulching blades and probably with a chute blocker. Thus, they can't deliver mulching cuts firmly rather they offer side discharge more efficiently. And, therefore, the mulching kit price of the Gravely is much affordable.
Monitoring System Differences Of Exmark And Gravely Lawn Mower
When we look over the monitoring system of the mowers, we have figured out that Exmark designed the mowers by mounting an LCD screen as its control panel. Therefore, you can easily monitor your mower and also diagnose any troubleshoot at the same time with the help of this digital operating as well as diagnosing module.
However, in the case of the Gravely Lawn Mower, it doesn't offer any standard as Exmark does. And, thus, in terms of the monitoring system, you can declare the Exmark as the winner!
Gravely Or Exmark Mower- Warranty Comparison
Well, although the price range of both mowers is almost the same, they both offer several limited lifetime warranties. This warranty depends entirely on their different range of mower products.
The Gravely and Exmark both are trusted and reliable brands offering great authenticity to their mowers. Besides, they manufacture their mower machines with quality equipment so they can last for quite a long time.
However, after incision research, our experts find out that the Gravely mower provides a long-time and limited lifetime warranty compared to the Exmark mower.
All, right, here is what we have found out their warranty information, have a look at the table to compare the mower's warranty-
Final Vrdict
Well, in the end, we wrap up our Gravely Vs Exmark comparison article with a conclusion that both are incredible and top-notch cutting mowers. Yet, there are some strategic differences between these two on which your purchase depends actually.
Considering those tricky facts, you need to find out which one is better for you. However, between these two, the Gravely mower comes with a high-back seat, providing utmost comfort, a durable tubular frame, and the best cut quality with more fuel economy.
While Exmark provides a stylish, innovative, and eco-friendly mower with a fascinating and precise cutting quality. Besides, one of the greatest advantages you will get from this mower is the firmly settled mulching cut.
So, having one of those mowers will be a money-worth investment overall!
More To Read: