Craftsman and Troy Bilt lawnmowers are ideal for small to widerresidential lawns. Are you looking for one for your home lawn? Then, you might fall in between the clash for Troy Bilt vs Craftsman mower as they both compete at tie-tie points.
Both brands can please with their robust lawnmowers. But you might not get the chance to test them both.
So, to clear out your confusion, we present an analytic-ready comparison. After reading this,it can help to have a precise knowledge to pick the suitable one.
Let's dig into the details.
Troy Bilt Vs Craftsman Lawn Mower Differences
Troy-Bilt Lawn Mower

Craftsman Lawn Mower

Available Engine Brands

Kohler, Troy-Bilt, Briggs & Stratton, Honda, and other non-brands
V-Twin Hydrostatic Kawasaki, Kohler, and Briggs & Stratton engine in all the mowers

Engine Type

V-twin Overhead Valve (OHV) engines inmost

Riding mowers- available in mini battery powered to 4-cycle engine

Walk-behind mowers- available in corded, cordless, self-propelled, and gas-powered pull module

Deck Size

In Push mowers- 16" to 21."

Self-propelled- 21" to 28."

Riding mower- 30" to 54."

Zero-turn mower- 42" to 54."

Riding mowers- 30" to 54."

Walk-behind mowers- 21" to 28."

 

Maximum Fuel Tank Capacity

1.3 to max 3.5 gallon

1.3 to max 3 gal

Average Engine Power

10 to 48 HP on average

10.5 to 26 HP

Fuel Efficiency

Better fuel efficiency based on engine type

Relatively less fuel consumption than Troy-Bilt engines

Warranty Service

2 years or 3 years of warranty for the parts

Backed by 2-3 years of warranty

In a Hurry?

Our Top Pick from Both Brands

Push-button system easy electric start
Mulch kit ensures healthier cut.
FWD provides better maneuverability
1.9-bushel bag in rear collects grasses

20 HP efficient engine for wider lawn
Wider deck faster cut
Reverse ride without losing the cut
High back seat fora comfortable ride
Now, check out the detailed features of each brand machine for your home lawn mowing.
Troy-Bilt Or Craftsman- Engine Performance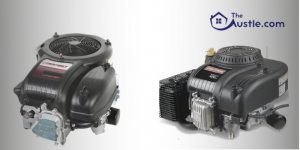 Since 1937, Troy-Bilt has been working so far to provide some efficient and robust device for better lawn care. All the Troy-Bilt riding lawn mowers and walk-behind mowers use Honda, Kohler, Briggs & Stratton, and Troy-Bilt engine.
Most of the Troy-Bilt engines have OHV (Overhead Valve) Designed V-twin engine. Hydrostatic transmission systems used in the lawnmowers and tractors make the engine more responsive than other low-quality engines.
E to Z starting system in the Briggs & Stratton engines makes the engine start easier. Some high-performing riding lawn mowers of Troy-Bilt feature car driving-like operations with an Autodrive Transmission system.
Contrarily in Craftsman, you get both Kawasaki and Kohler engines, and the Briggs & Stratton are seen though Troy-Built does not seem to have the Kawasaki engine machines.
Craftsman also includes the V-twin cylinder engine with a dual hydrostatic transmission system since its start in 1927. It helps when youuse the mower for a wider area. Some Craftsman riding mowers come with different stages of transmission speed forbetter power transmission.
Best Recommended for Troy-BiltPush Lawn Mower: Better Cut with Wider Deck
It is a 21" walk-behind push lawn mower with a Troy-Bilt OHV engine. A specially designed blade can cut smoothly and efficiently. And the mulching system with TriAction cutting technology helps to keep an optimized grass flow.
Cutting Quality of Craftsman Vs Troy-Bilt Lawn Mower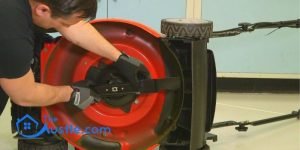 Primarily, Troy-Bilt lawn mowers use the TriAction cutting technology that offers clean and healthy cuts everytime. The specialized blade with a rake bumper improves the cutting ability.
Walk-behind lawn mowers of Troy-Bilt come with the mulch kit that helps the grass get a healthy cut leaving the nutrients in the soil.
More to this wider and anti-scalp deck provides an improved and faster cut at a single line ride.  It ensures not to damage the turf.
On the other side, Craftsman comes with a reinforced steel deck that only cuts the grasses with perfection but faster with the twin-style cutting deck.
Some come with a dual-functioning mowing deck (Craftsman push mower) and some with a triple-functioning deck (Craftsman Self-Propelled mower).
So, in the case of a smooth and faster cut, Craftsman riding mowers are unbeatable.
Best Recommended for Craftsman Push lawn Mowers: 21" Gas-Powered with Triple Functioning Deck
140 cc gas-powered engine provides efficient cutting with better finishing. This mower includes mulching also. So, you can hit a healthier cut every time.
Better Maneuverability- Craftsman or Troy-Bilt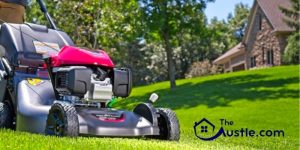 While riding a lawnmower, the thing that impacts more in your cut is the maneuverability. Yes, if your lawnmower machine cannot ease you with the best riding strategies, there is no point in expecting the best result.
Both Craftsman and Troy-Bilt mowers offer dual-steering lever designs with various cutting height adjustment options. That is a good point indeed.
But do you know what the wondering part of the story is? Craftsman zero turn mower comes with a wider turning radius resulting in exceptional maneuverability. With the Craftsman zero turn mowers, you can cut and take a reverse turn without leaving any grass un-mowed. Well, you might know the riding technics that is a different fact, though.
Best Pick for Craftsman Zero Turn Mower: 46" Deck Ensures Wider Cut
It includes the 679 cc twin engine that can cut efficiently. If you have a wider lawn, you can use this zero-turn mower and cut grasses smoothly. And the best part is going reverse with this mower is super efficient with smooth stripes.
Servicing & Tech Assistance of Troy-Bilt and Craftsman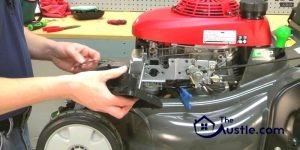 Well, both Craftsman and Troy-Bilt offer some of the good and quality built lawnmowers. Troy-Bilt products are manufactured by MTD,whereas Craftsman products are from AYP (American Yard Products).
When it comes to dependability, Craftsman can give you more relaxing lawn care than the Troy-Bilt. Want to know why? Let's see.
Both offer 2 to 3 years of warranty service, but in terms of technical assistance and customer service, Craftsman tools featuring Sears come and assist you in getting any replacement parts and other services.
So, for parts availability and rapid customer service, Craftsman gets the bigger thumbs up.
Note that this service availability might not be available at Home Depot and Lowes.
Best Pick for Craftsman Self-Propelled Mower: Efficient Cut with Less Effort
It comes with a 159 cc robust engine. It is a self-propelled mower with an Auto Choke system. So no need to be confused with the choker function. And the dual lever steering with height adjusting facility benefits a lot.
Which Features More Durability- Craftsman or Troy-Bilt?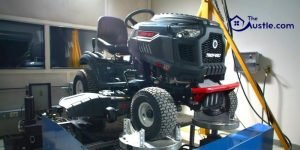 Both Craftsman and troy-Built products are made in the USA, but parts used in both brands come from Ohio, Mississipi, Tennessee, and Arizona. So, no tension remains here to doubt the reliability and durability.
Heavy-duty tubular frame design in Troy-Built makes the robust machine with long-time performance stability. On the other hand, a reinforced steel deck makes a stable and strongest mower with improved cutting ability.
Moreover, both brands are passedthroughseveral quality tests, including the shaker table test and rough hit endurance.
So, the bottom part is both are highly durable and reliable brands offering quality lawn care stuff.
Best Recommended Troy-Bilt Self-Propelled Mower: Honda 160 CC Engine with Rust Resistant Deck
This Troy-Bilt mower comes with the clone Honda OHV engine. 21" more enormous cutting deck can cut any rough grasses efficiently but smoothly. The steel deck is made with rust-resistant feature ensures durability.
Available Products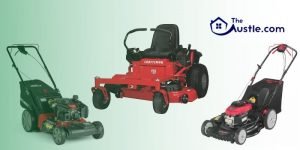 Well, when comparing Troy-Bilt and Craftsman products either for residential lawn care or commercial lawn care, both have a variety of availability.
For instance, Troy-Bilt has several models of lawnmowers (Riding and walk-behind), RZT, leaf blowers, snowblowers, string trimmers, tillers, cultivators, edgers, chippers shredders, and vacs.
And Craftsman comparatively has more to offer along with the lawn care products. It has all types of mowers for lawn care, including lawn edgers, trimmers, shredders, chainsaws, snowblowers, leaf blowers, and many more. Not only just this, but you can also get other hand tools and other garaging stuff in Craftsman.
However, people often seem to get stuck in the clash of Troy-Bilt vs Craftsman snowblowers. But the truth is both brands offer quite the same snow blowers- heavy-duty and single to three-staged.
Best Recommended- Troy-Built Snow Blower: 26" Two-Staged Blower
It has a 4-cycle engine, and you can start it with an effortless electric start system. A 2-way discharge chute is included here that you can propel the snow manually.
What Should Be Your Final Choice?
So, before it comes to your bidding from here, let's get the right decision by summing up the clash on Troy Bilt vs Craftsman riding lawn mower or walk-behind mower.
Though both are at the tie-tie phase with reliable and durable lawnmowers but still, when we need to choose one over the other, we make Craftsman the winner.
Yes, based on user opinions and views with parts availability, our eyes stuck on the Craftsman lawn mowers, especially the Craftsman zero turn mower.
Take care of your lawn with the right device. After all, you don't want your sweet home to look disturbed by the dead, weedy lawn.